Events Info, Calendar, and Game Library
We have approximately 1,500 square feet of gaming space, with a large main event floor, three thematic premium game rooms, additional tables on the sales floor, and a library of nearly 500 board and card games. You can usually join us six days a week for scheduled events or casual game play, right here at the store. We're currently closed on Tuesdays.

For more information about some of the gaming communities we host on a regular basis, scroll down and follow the buttons below. Our event calendar can be found at the bottom of this page, and includes links to online registration for many of those events.
Unless otherwise indicated, scheduled events generally cost $5 to participate. Big, store-wide events like Free RPG Day are often free to attend. Other events with prize support, promotional items, or tournaments may also be priced differently.
Consider becoming an Event Tier Patron on our Patreon. For $30/month you'll get free access to any standard $5 event, priority registration for limited seating events, and a 10% store discount! CLICK HERE for more information.
SCHEDULED EVENTS
We host scheduled events all year long for a variety of tabletop gaming systems, activities, and interests. Click the following links for additional info regarding each of the named categories:
Trading and Collectible Card Games (Magic: the Gathering, Pokemon, Digimon, etc.)
Role-Playing and Miniature Wargames (Dungeons & Dragons, Pathfinder, Warhammer 40,000, etc.)
Board Gaming and other Special Events (Tabletop Thursday, Paint Night, Young Generals, etc.)
Interested in reserving space for your own event?CLICK HERE for information.
GAME LIBRARY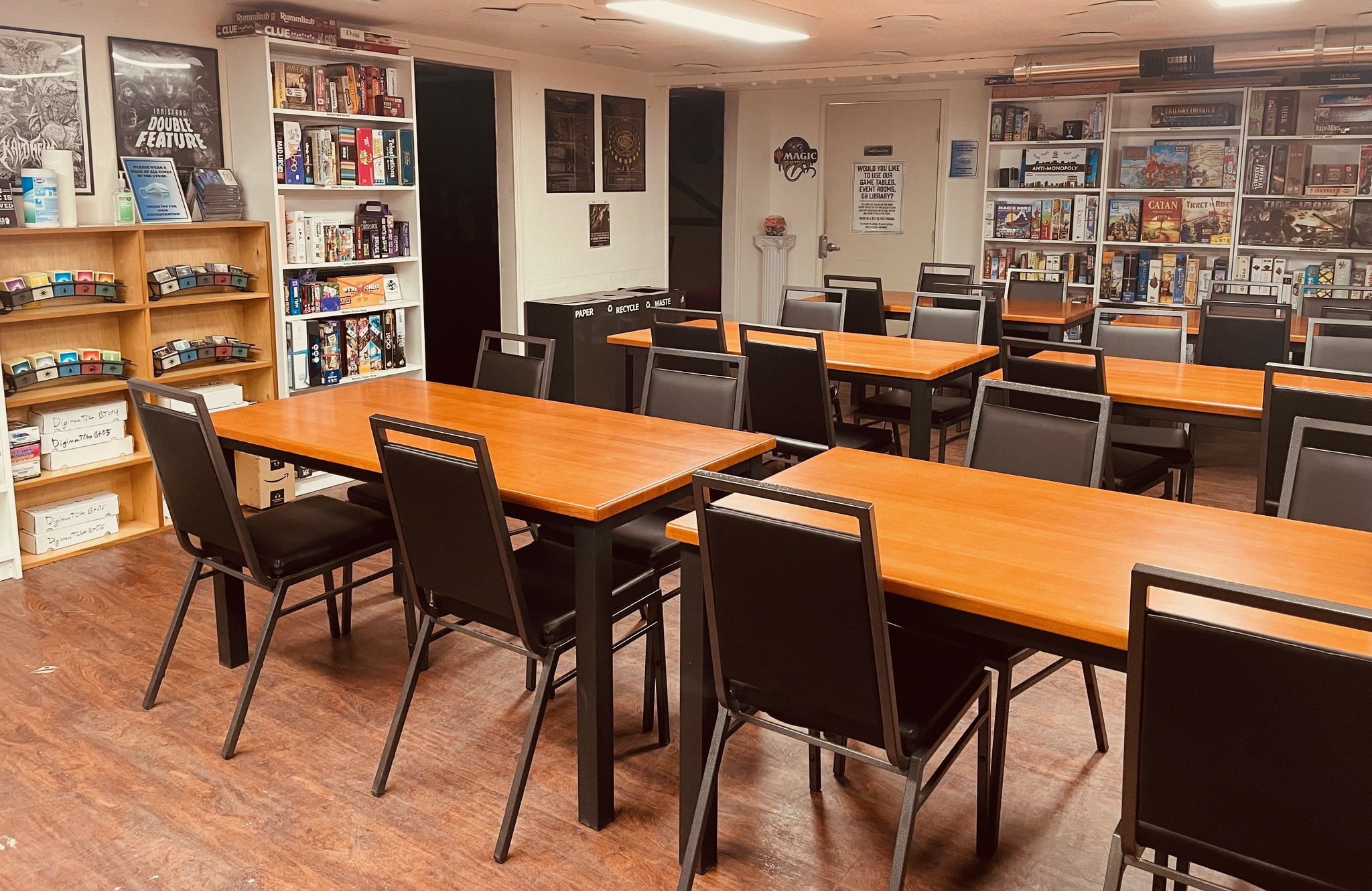 Want to play some games and don't know where to begin? Our event rooms are outfitted with a library of nearly 500 games, from Scrabble and Uno to Zombicide and Eldritch Horror. With so many to choose from there's something for everyone, and our friendly staff enjoys recommending their favorites.
Unless another scheduled event is going on, feel free to test out some games from the library. We just ask that you pay our standard $5 event registration fee to help us maintain the space and continue bringing in the latest and the best board games to expand our collection.

Want something more atmospheric and private? Perhaps, something on a spaceship? Or in the woods? Or in a tavern? You're in luck! We also have three themed premium gaming rooms available through reservation. Each one is equipped with a small number of reference books, miniatures terrain, and a Table of Ultimate Gaming.
HEALTH AND SAFETY POLICIES - Updated 1/5/22
Games of Berkeley currently requires all event participants to be fully vaccinated against COVID-19 -- that's 2 Pfizer or Moderna shots, or 1 Johnson & Johnson shot, at least two weeks prior to the event. Please be prepared to show proof of vaccination when you arrive at the store. In accordance with current City of Berkeley and Alameda County health measures, all patrons must wear a mask at all times while in the store.
We currently have a 20-person capacity total in our event space. If we are at capacity, we will not be able to admit more event participants.
We currently require all event participants to wear N95, KN95, or KF94 masks while in the store. If you do not have one, we have a supply available in the event room for you to use.
CALENDAR OF EVENTS
Click on individual events in this calendar for details about each. You may also find event information by emailing us via [email protected].